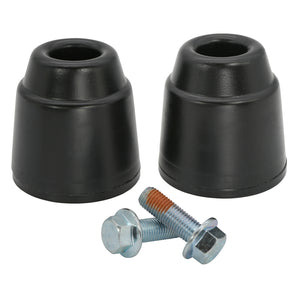 DuroBumps Front Off-Road Bump Stops for 03-23 4Runner, 05-23 Tacoma, 08-14 FJ Cruiser, 03-09 GX470, 10-23 GX460. No Lift Required – DBF212
$ 20425

$ 204.25

Save $ 10.74
---
---
Durobumps Front Off-Road Bump Stops No Lift Required – DBF212

Experience the difference with DuroBumps premium front off-road bump stops, proudly made in the USA. These bump stops feature dual durometer rubber, providing smooth, progressive dampening that significantly reduces hard bottom-outs. Unlike OEM bump stops that can feel rock-hard on contact. As a result, you'll enjoy enhanced off-road control and comfort while eliminating the "shell-shock" effect when encountering larger bumps.
DBF212 bump stops bring numerous benefits to your Toyota suspension system, adding performance beyond what shocks alone can offer. Perfect for both off-road enthusiasts and daily drivers with stock suspension, these bump stops deliver improved ride quality and shock absorption over OEM alternatives. Expertly engineered to handle the toughest terrain, they reduce or eliminate hard impacts associated with bottoming out shocks and suspensions. Furthermore, DBF212 front off-road bump stops won't limit your wheel up travel compared to OEM bump stops, and they prolong maintenance intervals by absorbing shock loads, reducing wear on critical suspension components.
Slightly taller than OEM bump stops, they compress under load to soften the impact just prior to the ultimate stop. If you're seeking improved off-road control, performance, and comfort for your Toyota and Lexus truck, DuroBumps are the perfect solution.
Don't wait; Experience the DuroBumps Difference and elevate your off-road performance today! Note: For off-road use only. Do not use spacers with any of Durobumps product line. By installing these aftermarket bump stops, the user assumes all risk and liability. DuroBumps are not designed for towing applications. For more information, visit https://durobumps.com/terms-of-use/. The seller will not be held liable for any damage or loss associated with the installation or use of this product for any reason.
Why DuroBumps DBF212?
- Improved Handling – Dual durometer rubber enables DuroBumps to act as a secondary coil spring, ensuring smooth engagement that progressively increases compression load in a predictable manner.
- No Loss of Up-Travel – DuroBumps DBF212 maintains suspension/wheel travel.
- Mounts in OEM Location – DuroBumps quickly and easily bolt into the OEM mounting location, ensuring a proper fit with no spacers or modifications required. *for oem LCA
- Increased Suspension Life – Actively absorbs shock load and prevents suspension from bottoming out, extending the service life of other components and reducing maintenance costs.
- Reduced Bump Steer – By absorbing the suspension's up-travel inertia, DuroBumps greatly reduce the energy applied through the tie-rod ends, steering rack and tire carcass. This lessens the bump steer effect felt when fully compressing your suspension.
- Compact, Application-Specific Design – Designed to fit specific truck models with no "universal fit" or spacers required. All without excessive free height interfering with your shocks' valving.
- Silent Engagement: Unlike Hydro bumps, DuroBumps make no noise upon contact.
- Solid Mounting Base – A 3/16-inch steel base plate guarantees solid mounting and features a black powder-coated finish to prevent corrosion.
- Premium Quality - DuroBumps Premium Bump Stops are Proudly manufactured in the USA, using top-grade raw materials, ensuring exceptional durability and strength.
- Provided Mounting Hardware – JIS 10.9 zinc-coated hex head metric bolts with pre-applied thread locker for a strong, secure fit.
What's Included:
(2) Two premium front bump stops.
(2) Two JIS 10.9 M10-1.25 x 30mm flange bolts with pre-applied thread locker.
(1) One FREE sticker.

Installation Instructions: Pre-soak OEM bump stop with penetrating oil to make removal easier. Pay extra attention to the threaded stud that mounts the bump stop to the frame and the threads of the stud that are exposed beyond the nut. Step 1: Following vehicle manufacturer recommendations, use a properly rated jack. Raise the front of the vehicle and support the frame rails with jack stands. Remove front wheels from truck. Be sure to use jack stands! Step 2: Remove OEM bump stops with groove-lock pliers, pipe wrench, or similar. Pay careful attention during removal to be sure you do not break the threaded stud on the OEM bump stop during removal. Step 3: Use a scraper or wire brush and clean any mud/debris from the frame. Step 4: Insert provided flange bolt into the new front DuroBumps and coat the threads with the provided single-use medium (blue) thread locker. Step 5: Using a 14 mm deep socket, install new DuroBumps in the OEM location. Tighten the bolt until snug (12 – 15 ft. lbs.). Do not over-tighten bolt. Step 6: Reinstall wheels and lower vehicle back to the ground. Be sure to tighten lug nuts to vehicle manufacturer's recommendations.
---
We Also Recommend