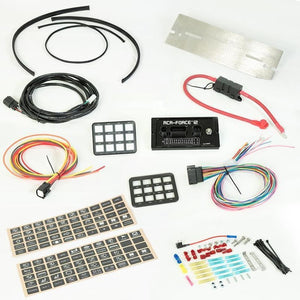 RCR-FORCE® 12
CURRENT LEAD TIME IS 1-2 WEEKS, DUE TO COVID-19 STAFFING RESTRICTIONS.

Features:
12 user-programmable switches

RCR-TOUCH™ switch cover

Waterproof, solid state power module

150amp capacity with 17 outputs

4 rated @ 35A and 1 rated @ 30A (High In-Rush circuits)

11 rated @ 15A, which can be combined for larger loads

1 Low Side driver switch, rated @ 2A

Built-in Bluetooth module

Program and operate accessories with phone or tablet

System can be used to start vehicle
 
Switch Panel Specs:
RCR-Touch™ cover, snaps on for ease of specific switch selection while wearing gloves or riding rough terrain

Switch Panel enclosure measures 4" L x 3" W x .375" H

Splash proof with Polycarbonate overlay faceplate

Pre-machined for factory-look installation

RGB backlighting

Orange LED switch indicators

6 Programmable LED Status indicators

Power Module Specs:
17 Outputs: 4 rated @ 35A, 1 rated @ 30A, 11 rated @15A, 1 Low Side rated @ 2A

150A maximum rating

7"L x 3.5"W x .5"H (excluding connectors)

Waterproof and Solid State

Underhood rated 125° to -40°C

LED Ignition Input Status Indicator

Kit Also Includes:
11' of Communication Cable between Switch Panel and Power Module

Power Cable with 150A inline Circuit protection

100 User Selectable Legends included (Horizontal orientation)

Installation brackets and hardware

Color Coded Output wires

Wire harness with waterproof, sealed automotive grade connectors

Switches Can Be Programmed For:
Preset Dimming function WITH MEMORY (100% to 10% brightness)

Master Mode, with ability to turn multiple outputs On AND Off with one touch

Every Master Switch can control up to 4 other switch outputs

On-On-Off logic

Touch Panel lockout

On/Off or Momentary

Ignition or Battery Input

Flash or Strobe, with User-Selectable Strobe patterns and One Touch activation

Automatic Power-Up upon vehicle start up

Safety Lockout for specific switches

Time Delay off

Additional Features:
No bulky relay box

RGB Backlighting with unlimited color options

Three External Trigger inputs can each activate up to four outputs (Active Hi or Active Low)

Sleep Mode for minimal power consumption

Color coded output wires

Daisy Chain up to 3 Switch Panels to One Power Module

Free app for iOs and Android platforms

Splash proof switch panel with Polycarbonate overlay faceplate

LED Input Status Indicators for easy troubleshooting

Battery Voltage Readout on App screen
Due to a rise in online fraudulent transactions, Billing and Shipping addresses must match. Please place a phone order, if you require delivery to a separate address.
---
We Also Recommend