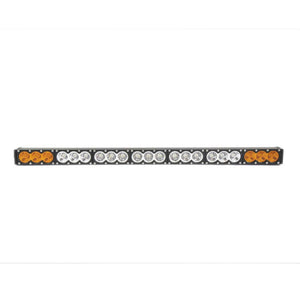 X6 10W Series 2D Amber White 38" Single Row LED Light Bar & Harness Kit
25,200 lumens
21 - 10w CREE LEDs - 210w Total
Versatile Amber and White Lighting with Combo Beam Pattern
Amber and White Lights Controlled Independently
Amber are Flood Beam and White Lights are Spot Beam. But you can Customize with our

 

Replacement Lenses
Waterproof
Lifetime Warranty
30 Day Risk Free Returns
With an amber white LED light bar, Extreme LED provides you with options that you can't find anywhere else. Fulfill your need for a crisp amber white led light bar right now! The X6 10-watt series single LED Light bar offers you the choice between the white light and amber lights. You can also use the two together! Use just the white lights for extra lighting at night, the amber for extra contrast (great for fog and snow), or combine the white and amber for maximum light and visibility!
A few things to expect when purchasing an amber white led light bar regarding height:
It is 2-1/4" tall, and the light from mounting point to mounting point is 38" wide.
The mounting feet holes vary - the inward mounting feet of the single LED light bar is 36-3/4" and the outward mounting feet are 40-3/4".
The applications for this amber white LED light bar is endless. Whether you're out in the country going mudding with your buddies at night or going for an early morning hunting excursion. Extreme LED has the right equipment shine light to your path, as well as LED accessories. 
Want to mix up the lenses a bit? Maybe make them all white or all amber? Customize to your heart's content with our replacment lenses!
We understand you need a LED light to guide the way without costing a ton. We keep you in mind when it comes to pricing. We don't want you to have to break the bank just for quality amber white lights.
With high-quality aluminum construction, IP68 rating to keep dust and water out, and rugged powder coating, our lights will take you wherever your journey may take you and whatever abuse you throw at it. 
Includes:
Combo Beam Light Bar
Universal mounting brackets (scroll through product images to see)
Wiring Harness for independent white and amber light control (has two switches, one for the white lights and one for the amber lights; scroll through product images to see)
Not seeing what you're looking for here? Check out our full stock of LED light bars! Worried you'll be disappointed? Most customers are shocked by just how bright these are...but what if your standards are higher? You've got nothing to worry about with our risk free 30 day satisfaction guarantee.
Risk Free for 30 days. If you don't like these lights, contact us and we'll send you a return shipping label on our dime and refund you 100% once we receive them back in like new condition.